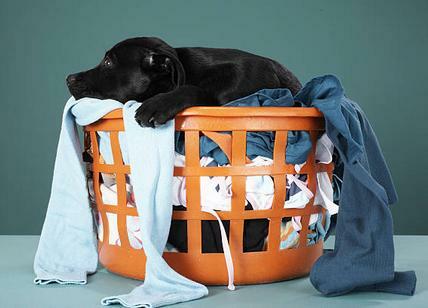 photo credit: Getty Images
Keep in mind before you try anything new with your washing machine you have to follow your clothes manufacturer cleaning instructions first!
1. DON'T STUFF TOO MANY CLOTHES IN.
It may be painful to do but we all have over loaded ourselves with groceries so we can make one trip. Seems worth it in the end as at least all our groceries are in and not melting outside. But the temptation to get as much laundry shoved in as possible must be avoided. Clothes need room to rub against each other in the wash to get clean. Check your owner's manual for the maximum load weight and stick to it. No manual? Check online.
2. PICK THE RIGHT DETERGENT.
More detergent is probably not the answer if your clothes seem to still come out dirty. Too much detergent and you have a residue that sticks to the clothes and attracts more dirt. For starts be sure to use the HE appropriate detergent if you have a High Eminency washer. Price doesn't always determine what detergent is the best but sometimes it is worth paying more to get a quality product that saves you money by not having to re-wash loads. You could also need to change up detergents simply because you've grown tired of the smell of your usual brand.   
3. USE THE HEAVY-DUTY CYCLE.
It is not needed for most loads but every now and then a seriously dirty load or a few pairs of jeans may require the heavy-duty option. The heavy duty or heavily soiled cycle has a longer cycle and agitates your clothes faster. That faster agitation rubs your clothes together more and gets a deeper clean. Ideal for muddy work/play clothes BUT  warning it could damage more delicate fabrics. 
4. USE THE STEAM FEATURE.
Considered a waste of money in terms of wrinkle reducing, tests have found it does clean stains a bit better than a regular wash. If you already have a machine with a steam-clean setting, don't let it go to waste.